GLOBAL ROUTES. LOCAL ROOTS.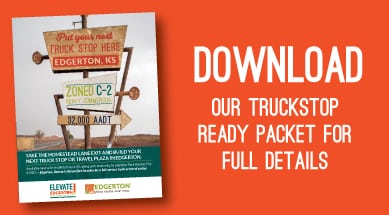 Since opening in 2013, 8.2 million square feet of new industrial warehouse space has been constructed in Edgerton at LPKC, attracting national tenants including Amazon Fulfillment, Jet.com, Kubota, Flexsteel Industries and others.
Thoughtful land use plans that maximize undeveloped properties, future-focused infrastructure improvements and a development process supported by progressive staff and elected officials, make doing business in Edgerton simple.
PRIME TRUCK AND TRAVEL PLAZA SITES – NOW AVAILABLE
Edgerton has four available properties within the corporate limits of the City on the north side of I-35 and the Homestead Lane Diverging Diamond Interchange – the gateway to LPKC.
These properties feature upgraded road infrastructure including a heavy-haul corridor and a four-lane road to accommodate large trucks entering and exiting both the BNSF Railway's Intermodal Facility and the LPKC warehouse and industrial complex.